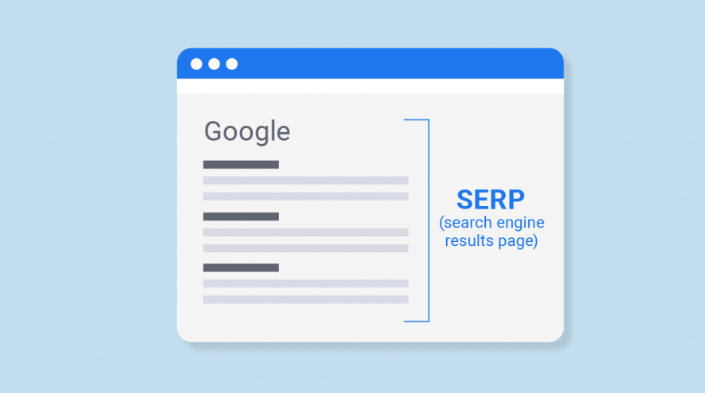 Two of my utmost passions in life are baking and writing. Since the beginning, these activities were a lot more than just a time pass, and as I grew, I got deeply involved in baking aromatic cakes and churning out creative stories.
My yearning to write well eventually landed me in the world of content writing. Since then, I began to realize there is a lot more to content writing than just stuffing keywords in a blog.
I also found some similarities between content writing and baking. For example, your content needs to be SEO optimized to rank higher in the search engine results. It is just like a simple sponge cake. An ordinary cream cake is fine, but when you turn it into a fancy, themed fondant cake, it suddenly looks a lot more enticing, tastier and enjoyable!
The layer of optimization will boost the performance of the content by bringing more readership, lead conversions, and a whole lot of social shares.
The content that you publish describes who you are to the audience. If you optimize the content using the proven SEO strategies, it goes a long way to demonstrate that you are an expert in your field. Without SEO, you can't ace content marketing.
According to 99Firms, 18% of organic clicks go to the page on the first position of SERP. The page on the second position that gets 10%. Finally, 7% of traffic goes to the page at number 3.
Does escalating SERP seem like an impossible task for you? Let us crack the code of content optimization through some simple strategies explained below:
Relevant topics that sync with the target audience
Begin your game plan by coming up with topics that will sync well with your target audience. Catering to them will be easy if you have sorted out your personas.
Hubspot recommends using descriptive text around your website assets as the text is the foundation of search. It helps the site to rank well.
When you use the text that your audience is using in the search bar, they will find your website in the results page. Whatever answers they are looking for, your content will provide them.
For example, let's say you own an online leather jacket store. Your target audience is fashion savvy, and they want to know about new fashion trends. To engage them, you will have to publish blog posts on the latest fashion trends, styling tips, and dressing guides, etc. It will bring real value to your blogs as it generates leads and results in increased traffic.
As per the statistics by Backlinko, Google uses more than 200 factors to rank websites. A compelling title is one of those factors.
Do not make the mistake of creating ambiguous headlines that confuse the reader, and neither should you write a very generic title. People don't like to read about prevalent topics repeatedly.
Instead, your headline should signal the audience that they are in for some unique content with valuable insights. Crafting a title for each of your blogs is a crucial step in optimization.
Tip: how-to titles work so much better as they are assumed to answer a query.
The fundamentals of keyword placement
We cannot deny the importance of keywords. Even more, adding them in the right place is also something that we cannot overlook. Below, we have mentioned places where you should add the most-searched keywords in your content:
Title tag: Adding the focus keyword at the beginning of your title brings way higher CTR, which means it increases your chances of ranking higher.
URL: Your page URL is what Google uses to understand your page. So, optimize it by adding primary keywords. Add hyphen in between like Clifbar has done below to let the search engine know that all words are separate.
Meta description: The data which the search engine shows us right beneath the title of a page is called metadata. It clearly describes what the page is about. Any keywords that you add in it will be highlighted if the users search for them.
Images: Your most important keywords should go into the image captions, alt tags, and file names.
Body: You should add all the relevant keywords in the body of your blog.
Anchor text: The anchor text, where you will be placing your inbound links, should have the primary keyword. Through inbound links, you can add any other relevant content to your website to increase the time visitors spend on your site.
Incorporate LSI keywords in the body
Semantic search is on the rise nowadays. It is done on the surrounding topics of a primary keyword. Google's algorithms are turning smarter day by day, and they understand topics that are similar to each other.
Include LSI keywords in your content that are semantically related to the topic. For instance, the LSI keywords for ketogenic diet maybe keto recipes, weight loss, and measuring macros.
It's a no brainer that longer content covers the topic well. According to serpIQ, the average word count of the top position Google content is 2,416 words. It means that Google prefers detailed posts as they comprehensively answer the queries of the users.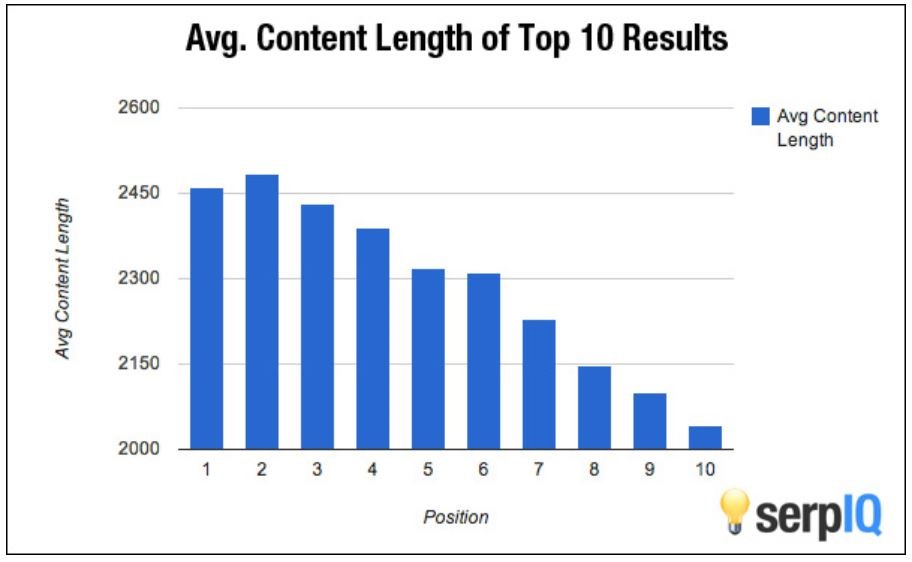 It is easier to add more backlinks in long-form content, as length and backlinks are highly correlated.
Moreover, it also increases organic traffic and social shares. As quoted by Hubspot, blogs with a word count between 2,250 and 2,500 earn the most organic traffic.
Mostly, readers nowadays skim through the content and only pick relevant information. A blog that has excessively long paragraphs with no proper formatting will make them leave the page in a matter of seconds.
This is the most common mistake one can make while writing content. Here is how you can make your content scannable:
Use heading tags, as that will help Google get a clear understanding of what the content is all about.
Use bullet points and numbered lists to make things simpler for the readers.
Write short paragraphs. Ideally, you should state a point, explain it further in one or two sentences, and move on to the next paragraph.
Generate enough white space to help the readers focus on the content.
Sparingly use bold and italicized text to highlight key phrases.
Focus on editing the piece well so that it is error-free and matches the brand voice.
Adding these elements to your writings will make sure that your readers never get bored.
No one can deny the importance of mobile optimization. Hubspot declares that marketers' top technical SEO tactic nowadays is to optimize mobile performance.
Due to the increasing mobile phone usage for search purposes, content marketers are dedicating their efforts towards effective mobile SEO plans. They realize that mobile searches drive most of the sales.
Moreover, voice search is getting common nowadays, thanks to the Google Assistant, Siri, and Alexa.
99Firms reports that 27% of the global online users are using voice search.Hence, only mobile-optimized content will give them a seamless experience.
Improve CTR by creating rich snippets
What are rich snippets? Refer to the image below where Tomboy Organic Skincare has managed to grab a high SERP ranking along with additional rating data: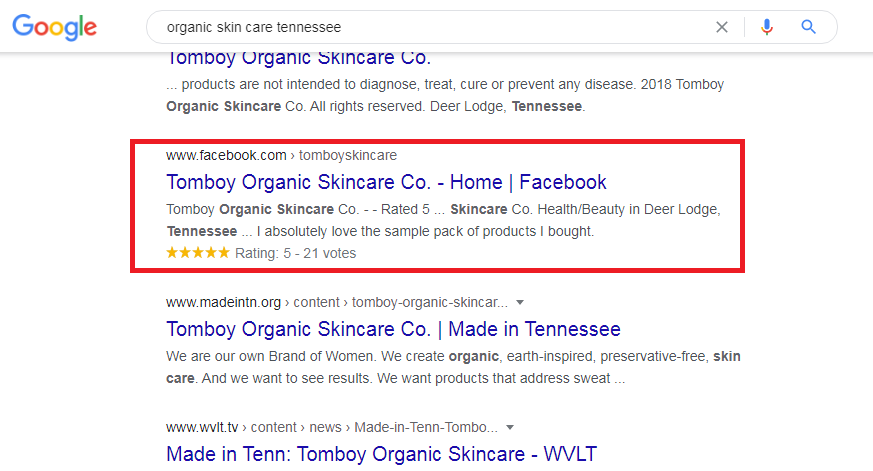 Rich snippets show extra data besides the usual title, URL, and metadata in the form of ratings, events, videos, or a recipe. Rich snippets can skyrocket your organic CTR.
By adding the structured data in your page's HTML code, you can also get a rich snippet. Find the relevant structured data of the rich snippet that you wish to obtain, via schema.
Aim for featured snippets
For query-based searches, Google shows snippets that include content from the result page as well. It solves the searcher's issue without needing him to visit the page.
You can also get a featured snippet for your page that states the relevant query within a subheading tag (h2, h3). Under that heading, the answer to that query should be directly given in the form of a numbered list and logically begin from the first step. The answer shouldn't exceed 58 words.
Internal linking
Links are a vital ranking factor. Internal linking refers to the links on a page that directs readers to another page from the same domain.
When you focus on internal linking, the link juice spreads and develops the site architecture. It also has a positive impact on page rankings.
Key takeaway
Optimizing your fresh and even older content according to the latest algorithms have a profound effect on your traffic and rankings.
Climbing the SERP ladder is a task that needs focus. The best way to accomplish it is by understanding the strategies mentioned above and integrating them into your content.