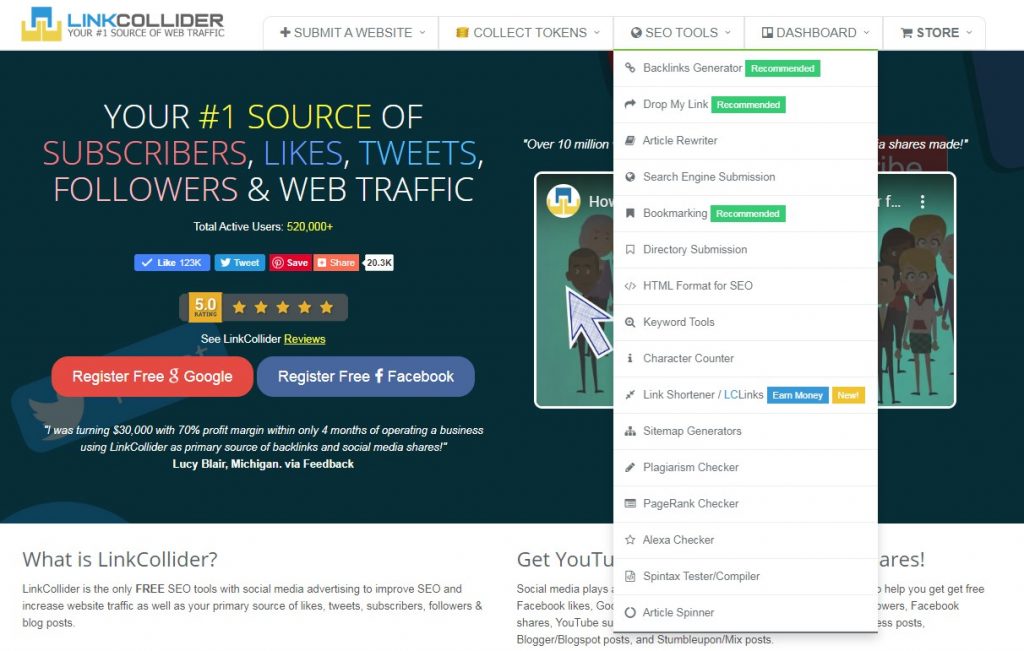 SEO Tools" width="800″ height="509″>
Do you want to find a website traffic booster that attracts more visitors and more sales? We all know that web traffic equates to more sales. Whether you're trying to get people to click on your ads, buy your ebook or physical products, or look at your forum, you must drive traffic to achieve your goals. If you are a start-up website, using LinkCollider can help you in boosting your site in the following ways:
1. Social networking
One way that LinkCollider uses to create web traffic is to take advantage of social networking sites. Sites like Facebook and Twitter are very popular around the world and offer a unique opportunity to advertise your business online for free. One can do this by forming a group on any of the networking sites for people interested in your products or services.
2. Exchange links
In case you are not ready to explore the possibilities of using a link exchange tactic, it time you hire LinkCollider to help you in doing this work. This is a very successful strategy. All they have to do is search for the keyword for your website on Google or any other search engine. Then they will visit the results on the first page and ask about the link exchange.
3. Advanced website traffic requires sophisticated tools
There are many tools and applications that LinkCollider can use to determine the quality of your website. LinkCollider uses SEO tools that go a long way in determining how your site looks in search engine results.
4. Participate in the forums
Usually, many people want to know something in forums related to their topic. So you want to participate in these forums actively. LinkCollider will create a circle of friends for you and let them market your website. This is an advanced traffic tactic that produces impressive results.
5. Blogging
Another way that LinkCollider uses to help you to earn money and generate traffic to your website is through blogging. Blogs are the best and can be a useful tool to raise awareness of the products and services offered. Using a friendly tone, LinkCollider can help you create a personal relationship with potential customers and create a reliable online business or start-up website customer base.
6. Posting useful content
LinkCollider understands that for a start-up blog success, useful content is popular with potential customers. The information on the blog must be accurate and valuable, as it serves any purpose of your online business or start-up blog and allows you to continue making money. This will also help index your blog, making it readily available to Internet users.
7. Publishing articles and reports
Another way to generate traffic for an online business or start-up website to make money is to publish information in the form of articles or reports. Many popular sites allow this information to be released for free, and it can help your business have a significant Internet presence and make money. LinkCollider will find out which sites are popular with your browser before making this move.
8. Posting links
Finally, posting links to your website in an online blog or article is another way that LinkCollider uses to encourage web traffic. This method can help your business make money; as a curious article, readers can click the link to view the products offered. This is an amazing method to hook potential customers with an online business or start-up website.