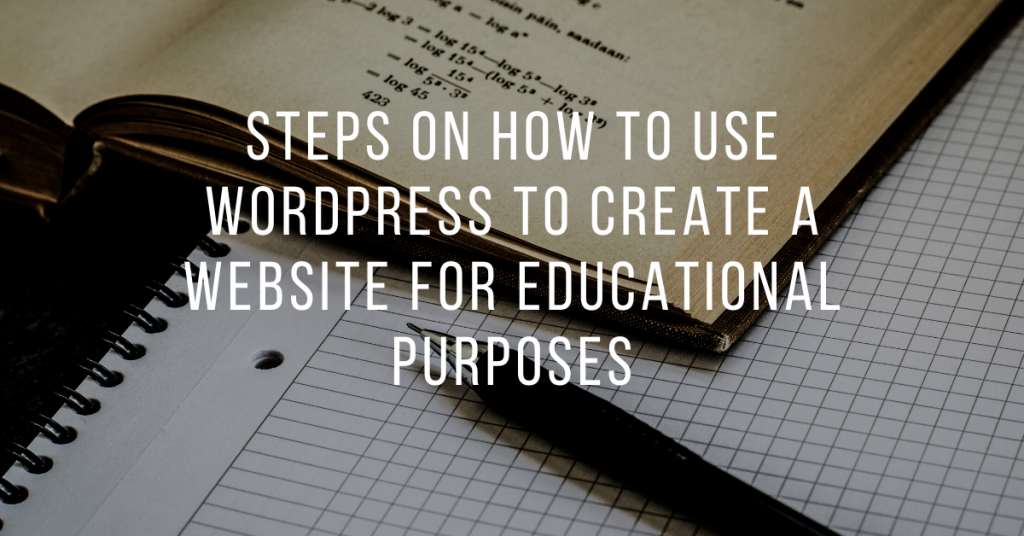 In essence, no one wakes up one morning and decides to run an educational institution. You have to consider several factors, including the best approach that would identify how to engage potential students to be more active. In most cases, you would need to implement technology to find the most critical strategies.
A website is a good example. Diversified technology has made the first step easier for you. You would require stable internet access if you want to create an educational website. You don't need any website: you have to create one that can generate traffic to your site to promote the services you provide. WordPress would be the ideal option in this case.
As you know, setting up an excellent website may sound complicated. WordPress would be useful in enabling you to create the best one with the least hassle. In the end, students would enjoy benefitting from convenient opportunities to learn. So, how do you set up a WordPress website? Here is the point where things become a bit tricky and complicated. However, it is worth the effort because you will be generating publicity for your website content. Below is a step-by-step guide on how to create a WordPress website:
Choose the Ideal Theme for Your Website
The picture on the side illustrates a theme in which a tutor is instructing a student. You should identify the best WordPress theme that would suit your website appropriately. The one that you settle for should have unique features that make it easy to create even the most complex sites.
For instance, your theme should reflect the aspect of learning. In this case, an idea that gives a clear picture of education would provide a significant framework for building your website. You can also anchor your subject by including templates that have advanced features of the same. At this step, WordPress would enable you to:
Feature contact information in the footer of your website;
Have suitable management for payments;
Support and integrate other events such as WooCommerce;
Upload images from your gallery;
View testimonials, comments, and feedback from other users.
Right outside the box, many popular themes promote educational WordPress websites, for example:
It is one of the most popular education themes on WordPress. Knowing that the human mind requires entertainment in education, you would need something that would capture your audience's imagination accordingly.
It is a theme that can be used on a mobile phone. Besides publishing students` classes, you can also set up various fonts and colors according to your preference. Additionally, you can also translate your website to be sued by international scholars.
It is a good option for anyone who prefers setting up a WordPress website that looks more professional. You can customize the layout in multiple ways to give your website a stylish presentation. Similarly, the framework can be used to organize the packages of your paper writing service more seamlessly.
Choose a Suitable Plugin
Primarily, you may seek to provide college and university students with online academic courses. In this case, significant educational plugins would be a good idea in helping you set up your WordPress website. Here, you can choose a free or premium plugin.
A free option is a significant and budget friendly option that still meets the expectations of WordPress users. It easily allows you to establish a system that can adequately offer courses to students and manage how they access your website.
On the other hand, the premium approach is more powerful when developing a WordPress website. It comes with a membership to enable users to interact with unique learning features and pay for online studies.
Whichever the option you decide to go for, you would more likely get the job done. It would be best if you went for the one that makes you happy to get the most out of it.
The Final Word
The ideal setup for a WordPress website would help you to reach your target audience. What's more, you'll be taking the first step into something new, especially if your educational institution has not established its presence online. While everyone is looking to make the world a better place, you can also be part of the change.
In essence, the educational industry is valued by several countries across the globe. Thus, scholars are ready to go the extra mile to pay for services, provided their needs are met fully. Creating your own WordPress Website to Promote educational materials would be an excellent opportunity to be useful in the learning market.