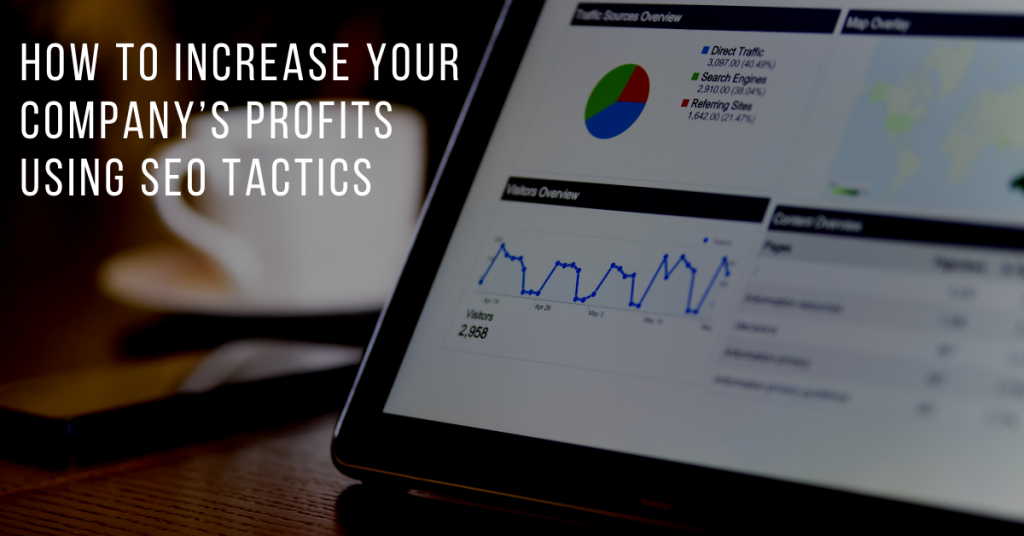 The success of any business to a large extent depends on its ability to outperform competitors and to increase sales. Another important factor is your ability to improve user experience and to meet your customers' expectations, making sure that every detail corresponds to their needs and preferences. The total revenue of eCommerce businesses is expected to exceed $6.54 trillion by 2022, and if you want to survive in the world of online sales, you need to use the most effective tactics.
Search engine optimization (SEO) is an area that constantly evolves and continues to help businesses achieve numerous goals associated with both marketing and user experience. Using an effective SEO strategy, you can increase the chances that your business will be noticed by internet users. You can also increase the probability of their conversion into customers and therefore boost your sales.
How SEO Can Help You Increase Your Profits
The main purpose of SEO is to improve your business' performance in search engines so that your products or services can become more visible for potential customers. When people search for some products and find your company, you get organic traffic. Any business with an online presence needs organic traffic to be able to generate profit and to compete with other companies from the same niche.
To get higher rankings in Google, you should adjust your content to search engines' algorithms and preferences. However, this is not an easy task because search algorithms constantly evolve and search engines want to make sure that people only see relevant information and engaging content. Google evaluates your website based on numerous factors, including your keywords, links, click-through rates, etc. If you manage to adapt your content to Google's preferences, you'll prove that you can deliver value, and your business will benefit from it. Here's how SEO optimization can help you.
SEO can be a part of your business plan
You can use various SEO tactics to determine what can help your business succeed. For instance, you can research your competitors' keywords, learning more about your target audience, and monitoring trends that influence other businesses. Such insights can also help you come up with new offers or determine the most relevant topics that you can address with your content.
You can rank for different things
If you want your business to have a strong online presence, you should keep in mind that you can rank for virtually anything. For instance, don't focus on keywords only because there are highly competitive keywords and you may get better results by ranking for another factor, such as your location.
Both keywords and location are important because you want customers from areas where you're located to be able to find you quickly. However, you can also rank for different products and services. In this case, it's important to be specific. For instance, you'll deal with less competition if you rank not for the "best burgers" but the "best cheeseburgers with bacon in NY."
Good content can increase conversions
If you publish new content regularly, you will increase your chances to get new rankings and links. You can post articles, blog posts, and visual content to get more traffic and to increase your revenue. If you provide people with useful content that they actually need, it will not only help SEO optimization but also boost your conversions.
If you set specific goals for your content, such as collecting emails through subscription forms or increasing click-through rates, it will be easier for you to plan your content so that you can get higher positions in search engines and increase your revenue. Not only should you provide high-quality content, but you should also be consistent in your efforts.
How to Use SEO to Boost Your Revenue
Decrease load time
When optimizing your website, make sure to improve load time because this metric has an impact on your position in search results. We recommend that you keep your load time below three seconds. According to statistics, about 50% of the web loads in 2.9 seconds or faster. We suggest that you don't let such a technical factor negatively impact your revenue and check out Google PageSpeed Insights to learn how fast your site loads and how you can improve the speed.
Make sure your site is secure
Security is crucial for users so Google makes sure to make the internet a safer place. If you want to increase the popularity of your website and to make sales online, you must make sure that your website is secure. For instance, websites that are not using HTTPS are labeled by Google as not secure. If you want people to visit your page, you should convince them that your source is secure, so having HTTPS is a must.
Make visitors stay longer on your website
Time on site is a very important metric because it reflects how valuable your content is. Google algorithms consider how long people stay on your website and how engaged they are. You will certainly boost your search engine rankings if your visitors spend three or more minutes on your website. If this parameter is lower than the average time on site, Google will decide that your content isn't valuable enough and so isn't worth recommending it.
To increase time on site, you can follow some simple tips:
Write engaging introductions that will make your readers focus on the content.
Use H2 and H3 tags to divide your content into digestible sections.
Don't use pop-ups.
Embed videos.
Answer your audience's questions.
Provide valuable content.
Provide high-quality content
Original, actionable, relevant, authentic, and engaging content remains one of the main factors that influence your positions in search engine results. Make sure to provide detailed and useful descriptions of your products. Write blog posts that can help your audience. Make sure to properly cover every topic and follow Google General Guidelines.
Users should be able to consume your content easily, clearly understanding what every piece of content is about and how they can use this information. To create good content, you should make sure that you have professional writers. For example, you can check out a writing services review website Best Writers Online.
Decrease your bounce rate
The bounce rate is a parameter that reflects the number of individual page visits. This parameter is used by Google to understand how engaging your website is. The lower your bounce rate, the more conversions. You can decrease your bounce rate by increasing time on site. You can also use relevant links, videos, polls, and widgets.
Wrapping Up
SEO optimization is necessary for every company that aims to build a strong online presence. If you want to increase your profits, you should optimize your pages for search engines, making sure that it will be easier for users to find your company. We hope that our actionable tips will help you improve your search engine rankings, and therefore, boost your revenue.