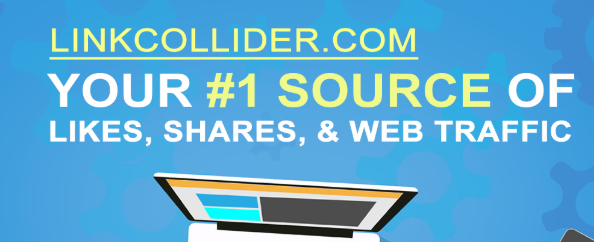 Bloggers and website owners have had a chance to breath ever since the introduction of SEO. With SEO, bloggers and website owners enjoy a lot of benefits, and it all depends on the SEO tool one is using. LinkCollider is a common tool among the bloggers because it has enabled so many of them to create traffic in their blogs. If you are a blogger and you are yet to use LinkCollider then you are missing a lot and more so when it comes to building traffic.
Building of links

To build up the number of backlinks you get it is essential to exchange links with other sites that are associated with yours. LinkCollider enables you to acquire quality backlinks which in turn puts you high in the search engine ranks.


The backlink is also responsible for determining the amount of traffic on your site. The popularity of the site increase with the increase of backlinks.

Creation of more traffic for the site

The prosperity of any website solely depends on the amount of traffic it gets. Using LinkCollider as your SEO tool will create a significant amount of traffic for your site. LinkCollider does this by ensuring that your social media presence is felt and therefore people on social media can like, comment and even share your posts.


A large number of the world's population is on social media and therefore have an impact on social media puts you out there in the market and at the same time increasing your ranking on the search engine result pages.

Increasing the conversion rates

If you own a blog or website for business purposes, I want to believe that the reason why you are seeking more traffic is to make more sales. LinkCollider is the tool to get this job done for you.

Successful young businessman happy falling the money while sitting infront of his computer with the graph showing the arrow going up increasing in sales. Business growth concept. A contemporary style

Through the use of social media, LinkCollider will achieve a significant amount of traffic for your blog or site. When a lot of people on social media are exposed to your content, there is a high chance that most of them will be prompted to buy your product and hence increasing your sales.

Improving visibility

Are you uncomfortable with your rankings on the search engines? Worry no more, LinkCollider is here to help. Regarding the use of keywords related to your goods or services, linkCollider is going to make you more visible by distributing your niche.


Most people have faith on whatever is displayed on page one of the search engines and having your content displayed on the top of it is a goldmine. LinkCollider will help in making your blog or website visible to all search engines hence get more visitors to consume your content.

Saving time

Whoever says that dealing with SEO is easy is a liar. The truth is, there is so much one needs to know, from traffic building to website optimization and many more and they all require your time. But you can avoid all this waste of time because LinkCollider does all this for you and much more. Make your work easy today by contacting the LinkCollider to help you host your website with fantastic SEO tools always to make your site rank high.


In summary, when you have a blog or a website, you should have SEO tools to get the online audience to consume your content quickly. The only way you can earn from your site is to have many online users consuming your content. Your aim while creating the website was to earn out of it, and that is only possible if you have a significant audience. LinkCollider SEO tools will help you build your blog's traffic.