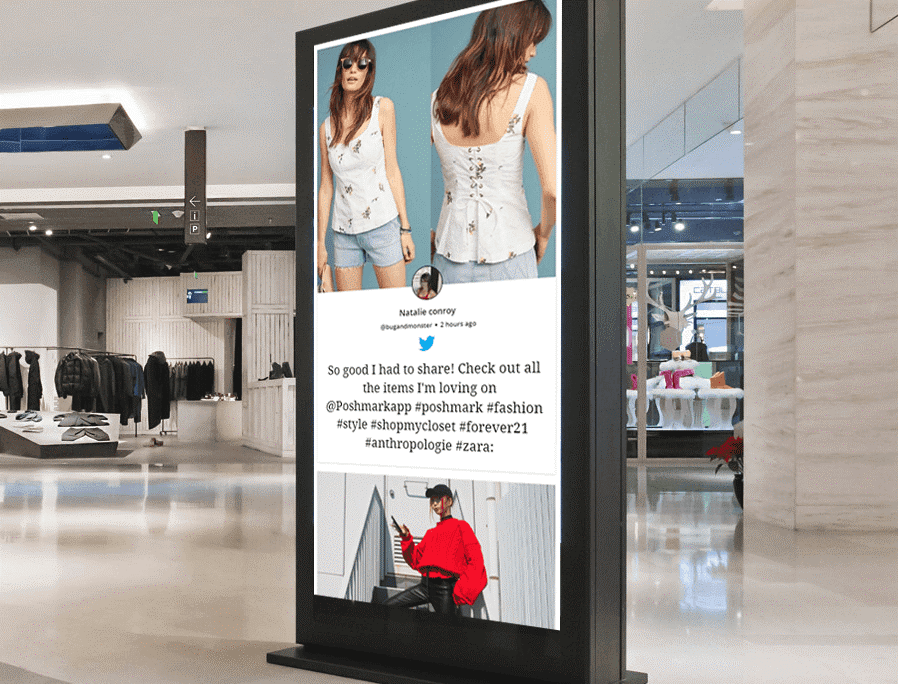 The basic definition of in-store marketing means the process where shoppers visit the stores of the brands physically and shop on the spot.
In comparison to online shopping, in-store marketing gives a more real shopping experience to visitors.
Moreover, it is a process where the shoppers are mentally prepared to make purchases and provides a more engaging and personalized shopping experience to the customers.
The main challenge when it comes to in-store marketing is that marketers are still adopting the same old procedures to promote their products whereas digital marketing campaigns are using new technologies and content to target potential customers.
If you own a store and are struggling to increase sales and conversions in your store, then you have landed at the right place. In this blog, we shall be telling you about the top 10 in-store marketing strategies that you need to start today to achieve the desired revenues!
Let's get started!
Top 10 In-Store Marketing Strategies That Will Change Your Marketing Game
Make Your Customers Relaxed & Comfortable
The minute your customers enter your store, they must feel comfortable and relaxed instantly. When your customers feel relaxed, they would feel the need to increase their stay time in your store and explore more.
You must be careful about the lighting of the store and the temperature inside the store must be according to the weather outside.
Similarly, you can play some music but make sure, you play the correct tracks. If your brand caters to the younger generation then you can play some peppy music and if it caters to all ages, then you can put something neutral which is not too loud.
Inform Your Customers About The Loyalty & Referral Programs
You need to make your customers feel special and in-store marketing is a great way to do so since you are dealing with the customers face to face.
You can do so by offering loyalty cards to them with exciting discounts or you can motivate them to refer your store to their family or friends and they would get points at every referral.
The points collectively can give them an option to avail themselves of exciting gifts or coupons.
Display Social Media Content On Digital Signage
Utilizing digital signage in-store is a great way to increase the engagement and excitement of the audience. Incorporating a social wall on digital signage can seamlessly take your sales to the next level.
Motivate your customers to leave behind their feedback and product reviews on their social media handle in the form of images, gifs, videos, etc and the content can be collected and displayed on digital signage for the visitors to see and they can immediately choose if the product and buy the product since the content created by other users is much more genuine and trustworthy as compared to the marketing done by the brand's themselves.
Offer Your Customers Free Wi-Fi
It is a known fact that people tend to stay longer at places where they get free Wi-Fi facilities. Many times, shoppers have other people accompanying them who are not really in a mood to shop.
In such cases, they can sit and surf the internet and the shopper can take their time to make their buying decisions.
Play Audio Messages In The Store
Shoppers are more attentive when they shop. To gain their attention, you can play a few seconds of sound bites in the background informing them about a special deal or a promotional offer in the grocery department, the cosmetics section, or anywhere as per your convenience.
There is a high chance that the customer gets attracted to these deals and plan to purchase other items as well!
Offer A Simplified Checkout Process
This is an extremely important marketing strategy that you need to keep in mind. All that shoppers wish for be it in-store or online, is a frictionless and easy checkout process.
In-store shopping demands the shoppers to get in line and wait for their chance to make the payment whereas on the other side they have to deal with their cranky children or are in a hurry to go somewhere which can lead to product abandonment.
You can keep a self-checkout kiosk where the customers can scan the product, make the payment, get the bill and leave.
Try Upselling
We are recommending upselling because it works. Customers are always in a mood to explore more and look for better products.
In-store marketing provides you the perfect chance to upsell products. If you are a skincare brand and your customer purchases your best-selling moisturizer, you can convince them to buy the face wash along for best results.
Such strategies can be beneficial for your business as they may motivate your customers to buy more products.
Motivate Your Customers To Check -In Their Location
You can convince your customers to check in and mention your store through their mobile phones. This would further tell their friends and acquaintances about your store and they may too check on your brand and visit soon.
Give Proper Information To Your Customers
Even though sales are mandatory, you need to give out the right information to your customers. Recommending wrong products to shoppers would hamper the overall image of your brand.
Moreover, your customers would trust you more and look forward to shopping more products since they would trust the products and your recommendations.
Take Feedback From Your Customers
The feedback of your customers is extremely valuable for your brand. You can set up an in-store survey where the customers can rate the store out of 10. You can display different factors like Products, Assistance, Overall experience to get a better understanding of the area which requires improvement.
Closing Note
In-store marketing is much more effective than online marketing provided you keep in mind the correct practices and strategies.
We have reached the end of the blog and you got to know about the top 10 best in-store marketing strategies that you need to start immediately to take your brand to the next level! We highly recommend you to go on and start right away.