Primarily, WordPress is used to promote websites that promote content in education. In essence, many educational institutions worldwide use WordPress due to the massive benefits it offers. For instance, the platform promotes enterprises' security, multisite, and multilingual capabilities, to mention a few. Other than these, WordPress benefits educational institutions in many different significant ways. Below is more insight into the above benefits and more:
WordPress Is a Significant Platform for Development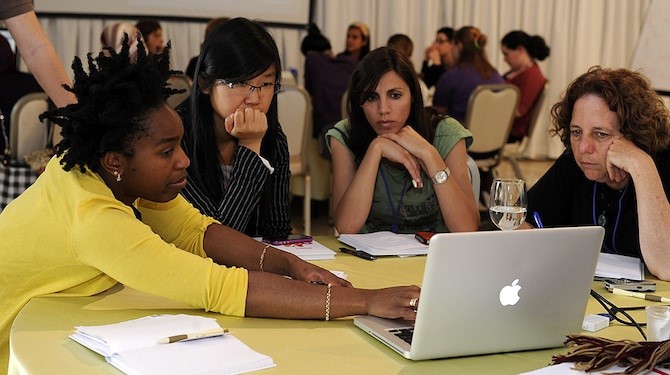 The above picture shows college students engaging in eLearning. Many colleges and universities seek development and establishment. As such, they seek a platform that can help develop the content they promote to expand their territories. In this case, websites are a good example, though not just any site. The ideal website should have the potential to undergo customization for all users and administrators.
Correspondingly, WordPress is an excellent option for institutions that want to meet specific objectives. It adapts to their needs suitably, thereby allowing them to add new capabilities or expand the existing ones. Moreover, the changes that they make do not affect their system of operation negatively.
WordPress Is a Mobile-Friendly Platform

Colleges and universities need a platform that can be used most simply and straightforwardly. Ideally, students, for example, would want to access the materials on websites using any device that connects to the internet. These also include mobile phones. Furthermore, the view of the content should be optimal on mobile phones, similar to computers.
Such accessibility enables college and university scholars to interact with various academic materials from anywhere. Consequently, they engage accordingly to support their school in meeting its primary objectives.
WordPress Has Multiple Powerful Capabilities
WordPress can be used to power multiple websites. It creates a network that enables the websites to use various domains and subdirectories to effectively manage their content. At this point, there is no limitation to the websites that the organizations can control. The sites only need to be related, for instance, a school's main website, portal, and admissions site, to mention a few.
Additionally, WordPress has significant SEO capability. It has unique SEO features such as permalinks, and URLs that are generated automatically depending on the title. Also, it provides substantial control over various SEO plugins and the power of Metadata. These features and more enables aussieessaywriter Australia to optimize a website with the least hassle. Simply put, WordPress can quickly meet the practical needs of universities and colleges to allow their websites to be ranked higher on search engines.
WordPress can Be Used to Publish Content
Higher education institutions make publishing more comfortable for the sake of their students. They can easily create drafts for their academic content and schedule time to publish on their site. WordPress allows them to revise and make changes to published posts and make it private or public. Regarding this, the platform will enable you to protect your content with a password, thereby securing your pages and posts until you are ready for the public to consume the content.
A Significant Security Platform
Ideally, WordPress is a secure platform. It is used by many organizations and institutions across the globe because of over-the-edge security. While that is advantageous, one would probably agree that no Control Management System offers complete protection. Organizations would have to take other significant precautions to reduce their chances of suffering a system breach. That said, WordPress can promote safety when used appropriately. For example, you can:
Restrict access to your site to only a few users;
Install the vital features needed for your website from credible sources;
Update your system frequently;
Use a safe environment for hosting;
Cloning your environment to protect yourself against losses.
It Promotes Effective Management
Every website administrator should have a system that manages users' roles and their access to a particular site. For instance, administrators can give website users specific tasks that promote the overall productivity of the site. These can be anything from editing content, moderating comments, and plugins, to mention a few. You would be able to manage your website in the most effective way.
The Final Word
In providing educational services, WordPress has multiple features that make it the ideal too for colleges and universities. Thanks to the above features and more, it satisfies students' needs who seek to access various academic materials in the most comfortable and relaxed way. Teachers and scholars can exploit multiple benefits of the platform to improve education at large. You can check out how to use WordPress in the most effective way.